Our 4 Favorite Benefits of Massage
Our 4 Favorite Benefits of Massage
Written By Carey Chiropractic Bobcat Physical Therapy on September 13, 2021
---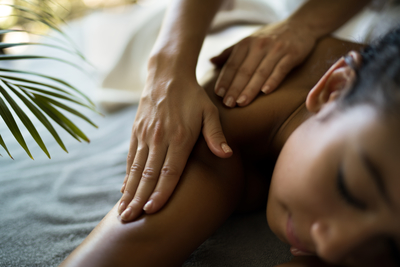 Massage is more than a luxurious form of pampering. It comes with a long list of health benefits. At Carey Chiropractic, we've chosen our top three benefits of massage:
Stress reduction
Muscular pain relief
Nerve pain relief
Improved circulation
Massage for Stress Reduction
Stress does a number on the body, including making you tense and hurt all over. It also raises blood pressure, raises cortisol levels (a hormone that makes it easy to gain weight and hard to lose it), makes you tired, gives you headaches, and more. You can find great stress relief through massage because of how it relaxes your body.
Relaxation coaxes your body out of fight-or-flight mode, tells your body to produce less cortisol, and alleviates pain-inducing tension. Our therapists will apply appropriate techniques to help your body destress and relax.
Massage for Muscular Pain Relief
Whether from chronic pain, soreness from intense exercise, or due to various injuries, massage can provide some much needed muscle pain relief. Massage improves flexibility, alleviates tightness and gets your blood flowing. The better the blood flow, the better your body can recover from exercise and heal more efficiently from injury.
Massage for Nerve Pain Relief
When nerve pain is due to an issue with muscle tissue, massage is a great way to achieve pain relief. Tight muscles can squeeze or pinch nerves. Massage coaxes muscles into relax mode, which takes pressure off your nerves. We offer various massage techniques to alleviate nerve pain, including conditions like peripheral neuropathy, sports injuries and migraines.
Massage for Improved Circulation
There are countless benefits of improved circulation, making massage therapy great for your health. Massage encourages better blood flow, which helps lower blood pressure and improves various functions, including better nutrient delivery and oxygenation. Better blood flow also helps your body flush out debris and waste, and reduces swelling. Our massage therapists will assess your circulation needs and apply the most beneficial techniques.
Experience the Benefits of Massage in Athens
Our experienced licensed massage therapists address areas of discomfort with Swedish, deep tissue or trigger point massage to help your back loosen up, reduce inflammation, and make chiropractic adjustments hold longer. Each session is customized to meet your health needs. Our therapists take the time to listen to your needs so you feel great every time.
Have questions or need to schedule an appointment? Call us at (740) 593-5511 or go online and fill out our contact form.

Posted In: Chiropractic Physical Therapy Massage Therapy