How Physical Therapy Helps With Shoulder Pain and Injury
How Physical Therapy Helps With Shoulder Pain and Injury
Written By Carey Chiropractic Bobcat Physical Therapy on August 13, 2021
---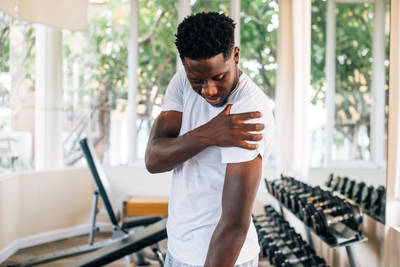 There's a lot going on inside your shoulder, and a lot connected to your shoulder, making it critical to get medical attention as soon as you can. The longer you wait, not only the worse your condition can get, the more it affects other areas of your body. Our highly skilled Carey Chiropractic Bobcat physical therapists in Athens want you to know the benefits of physical therapy for shoulder pain and injury.
Physical Therapy for Shoulder Pain
There are myriad reasons why your shoulder is in pain, making it critical to gather health history information and perform an evaluation to determine the best way to get you out of pain. Physical therapy treats your root cause by addressing muscular deficits, poor flexibility, and poor range of motion.
When you have unbalanced muscle strength in your shoulder, this creates uneven wear and tear while altering your range of motion. Our physical therapists will help you strengthen weak spots, guide you through various stretches and exercises to optimize range of motion. Treatment may also include massage, heat or cold therapy, and/or ultrasound as needed.
We care for patients suffering from various conditions, including osteoarthritis, frozen shoulder, rotator cuff tendinitis, shoulder impingements, and more.
Physical Therapy for Shoulder Injury
The end goal of physical therapy for shoulder injuries is to optimize healing and restore full function. Injury makes your shoulder stiff, impedes blood flow, reduces range of motion, and often reduces muscle strength.
Our physical therapists work to provide pain relief so your body can better calm its inflammatory response and maximize healing. We also work to reduce swelling and improve blood flow so your body can deliver healing nutrients. Whenever possible, we want to eliminate the need for surgery since that creates a new battle on the path to recovery.
One thing physical therapy excels at is helping restore full function. We'll carefully work you through exercises similar to what we do for shoulder pain and rehabilitate your shoulder to help prevent reinjury and developing chronic conditions, like arthritis. We want to restore your shoulder back to the way it was before injury.
Get Physical Therapy for Your Shoulder in Athens
Each practitioner, including Dr. Paul Carey, has decades of experience helping patients heal after major illnesses, traumas, and surgeries. Our team is caring and compassionate. Our main priority is you, your comfort, and finding ways to help you heal and get out of pain.
To that end, they'll provide various treatment options that will take your healing to the next level. You'll be able to heal more quickly and experience less pain as you work with this wonderful team.
Have questions or need to schedule an appointment? Call us at (740) 593-5511 or go online and fill out our contact form.

Posted In: Chiropractic Physical Therapy Pain Management Shoulder Pain Treatment